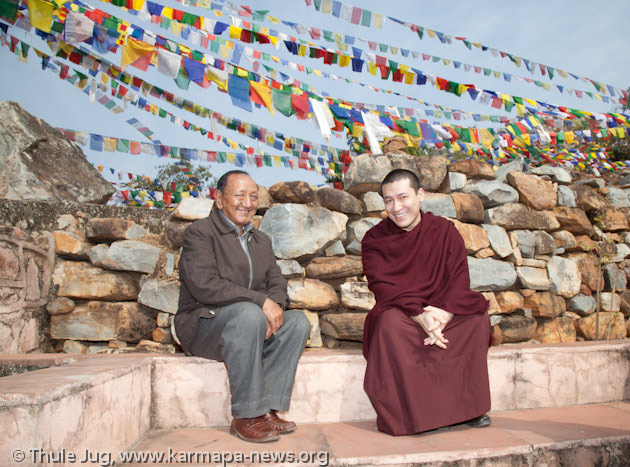 Professor Sempa Dorje At DBA
Professor Sempa Dorje was born in 1926 in Khunu, Himachal Pradesh.
He is a highly qualified master in Buddhist philosophy and Sanskrit, who used to be a professor at the University of Varanasi. He is one of the main teachers of H.H. Karmapa Trinley Thaye Dorje. 
He was invited by Kunzing Shamar Rinpoche to teach H.H. Karmapa and DBA students and was in DBA from 1997 to 2007 (from 1998 to 2002 he was teaching only H.H. Karmapa). Later when DBA's building was completed, he also started to teach monks. 
He taught many high-level subjects of Buddhist philosophy, such as Gateway to knowledge, Abhidharma kosha, Madhyamaka, Abismaya Alankara, the art of debates and others. 
He was living very near to the Academy and we all could see him every day from our windows. He was usually reading books outside of his room. When he was going for classes we would try to watch him walk smoothly and peacefully. He taught two or three classes per day. Mostly he was busy reading books and practicing in his room.
After the graduation of the first batch, he moved to KIBI in New Delhi in order to give precious teachings to KIBI students. Strong and healthy, he is now almost 90 years old. For us, he is the best, kindest and very rare teacher, and we feel a lot of gratitude to him.