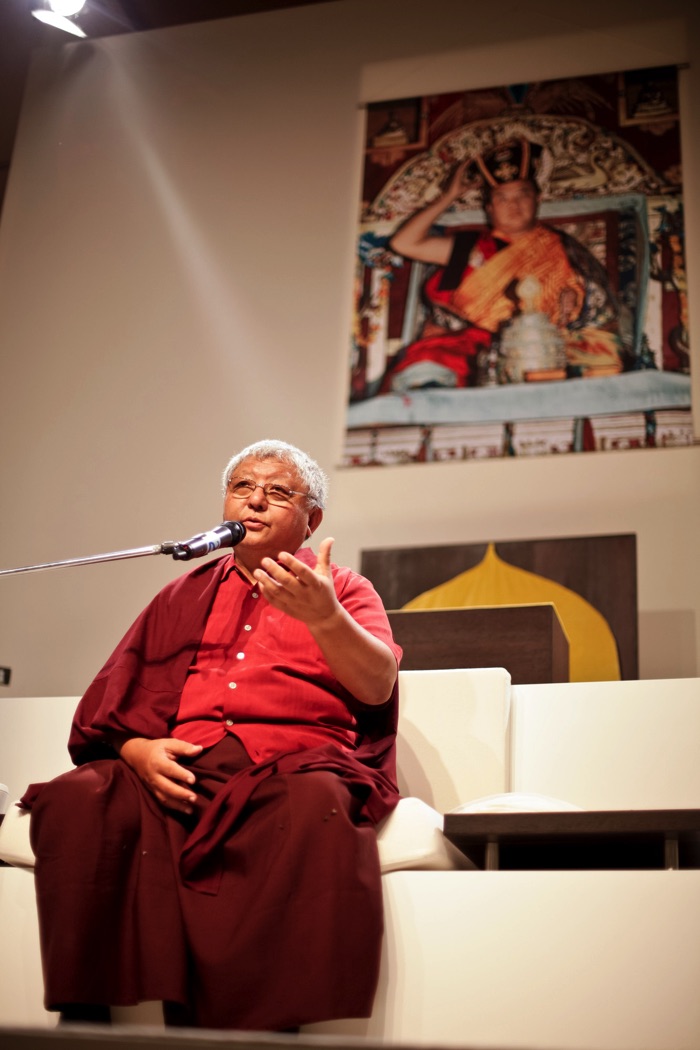 Lama Jigme Rinpoche was born in 1949 in the Kham region of eastern Tibet.
After the Chinese invasion, he left Tibet with the 16th Karmapa and many other teachers. In the then kingdom of Sikkim, they settled in Rumtek, where Rumtek monastery was built, the main seat of the Karmapa. Here, Rinpoche received all of the main transmissions and teachings directly from the 16th Karmapa, as well as receiving teachings from many other eminent masters.
In 1975, at the beginning of H.H. the 16th Karmapa's activity in the West, he appointed Lama Jigme Rinpoche to be his spiritual representative in Europe.
Lama Jigme Rinpoche fulfilled this function for the 16th Karmapa continuously, and now performs this same activity for Thaye Dorje, His Holiness the 17th Gyalwa Karmapa. In recognition of his immense capabilities, Karmapa appointed Jigme Rinpoche his General Secretary.
For more information about Jigme Rinpoche and his activities, please visit his page at karmapa.org or his official website.
Jigme Rinpoche in Diwakar
In 2014, during the Losar, Jigme Rinpoche gave a speech to the students of the Academy, it was the first teaching we received from him. That teaching was very inspiring and so simple, that all the students and teachers felt more connected and close to Rinpoche.
After the Parinirvana of Shamar Rinpoche, it is Jigme Rinpoche who took charge of the Academy. His guidance and advice are very simple, clear, efficient and practical. Slowly we realize more and more about him and his qualities, and that he is a great master and a very wise man. He is calm, gentle, patient, kind, and simple. Even when his health is unsteady, he is tireless in his activity. Rinpoche is a living example of a perfect disciple of the 16th and 17th Gyalwa Karmapas and the 14th Kunzig Shamarpa as he accomplished the instructions of his Masters.
The Gyalwa Karmapa said about Jigme Rinpoche that he was a genuine Dharma-holder. Even though Rinpoche hears a lot about problems from different people all around the world, he always has a simple and effective solution for each difficulty. He has the outstanding quality to listen and solve the problems peacefully. We pray every day for his long life and that he may benefit more and more sentient beings.
"In the person of Lama Jigme Rinpoche, I leave you my heart."