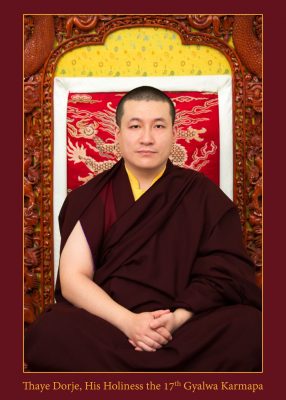 Karmapa was born on 6 May 1983 in central Tibet.
The Karmapas are the leaders of the Karma Kagyu lineage of Tibetan Buddhism.
In March 1994 Thaye Dorje was enthroned as the 17th Karmapa by His Holiness the 14th Kunzig Shamar Rinpoche.
Today, Karmapa travels extensively, meeting students, young people, world leaders, and leading lights in the fields of spirituality, peace, conflict resolution, and education. He has the spiritual responsibility for over 900 monasteries and meditation centres around the world.
To learn more about Karmapa and his activities, visit karmapa.org
H.H. 17th Karmapa Thaye Dorje during his stay in Kalimpong
In the year 1997 H.H. The 17th Karmapa Thaye Dorje came to live in Kalimpong. As this place has a very pleasant climate, he continued his studies and practice here. From the beginning, he was very gentle, close, and humble with us.
He received many important transmissions from Kunzig Shamar Rinpoche.
From Professor Sempa Dorje, the main Professor of Varanasi University, and many scholars he learned Western and Buddhist philosophy.
The first time we all saw him, we were waiting in a line outside. The moment he was coming down from his chamber for a class deep devotion arose in us.
When Kunzig Shamarpa was teaching poetry, Karmapa sat beside him. We were sitting just in front of them, feeling truly lucky and blessed to have this rare opportunity.
When Kunzig Shamarpa finished the class he used to give us homework. The next day he was checking the work we did. First, he would check H.H. The Karmapa and then us, one by one. Shamar Rinpoche praised him as a gifted poet. That moment was so energetic for all of us.
He gave a course on The Gateway to Knowledge and other subjects in the Academy as well.
H.H. gave empowerments and Dharma teachings during Tibetan New Year (Losar) and many people came here from Nepal, Bhutan, Sikkim, and some other places. Sometimes we made small performances for him like Milarepa's life story. We could see Him every day during his time in the Academy.
He advised us about the importance of knowledge and ethics in this world. We should preserve and develop the Buddha Dharma for the benefit of every sentient being. As well as preserving and transmitting further the precious teachings of the Karma Kagyu lineage. We should remember the kindness of great scholars like Nagarjuna, Asanga, and others. Thanks to their tireless efforts and profound compassion we can still listen, reflect and put into practice the teachings of Buddha.
From the year 2007 H.H. The Karmapa mostly stays in New Delhi in order to continue his Dharma activities and to benefit all sentient beings.
He Keeps coming back on a regular basis, and every visit is a reminder of His exceptional qualities.