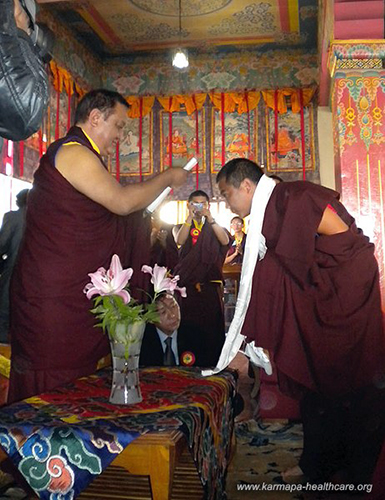 The graduation of Acharyas
In 2010, around 33 students graduated with the Acharya degree given by Shamar Rinpoche himself and Professor Sempa Dorje. In 2011 for the second batch of Diwakar, the Acharya's certificate was given by the Gyalwa Karmapa to 14 students.
Among those graduated students, some of them stayed in the Shedra teaching new students, some others are running the Shedra's administration, publication and library.
Few are going to Takdah for teaching and some also went to the three year retreat in Pharping, Nepal under the guidance of Lama Nyigyam. Some became attendants of the Karmapa and some went to KIBI as staff members, few went to teach in Shamarpa's Rumtek Monastery. Part continued their studies in universities or went to teach in other monasteries.
Third and fourth graduated batches continued teaching and working in the Shedra, in Diwakar primary school, Tilopa institute, and SharMinub.